We love what we're doing. Over the last twelve years of working in prison and reentry ministry, we've gone cell-to-cell talking and listening and praying with inmates, handed out thousands of Bibles, led small groups both inside and out, counseled with those who are struggling, worshipped with them, wrote a book for them (Spiritual Survival Guide for Prison and Beyond), met people upon release, gone with them to court, cooperated with all kinds of service providers, created RED Chicago (a reentry guide for those returning to Chicago), attended workshops and seminars and conferences and networking meetings, and learned an enormous amount from countless people in various state departments of corrections, from volunteers and chaplains and family members.
We're convinced that most returning citizens are eager for a successful reentry and that many service providers and churches strive to help. And yet everyone struggles mightily. The underlying systemic problem with reentry isn't that returning citizens or service providers are lazy or uncaring. The problem is that people are disconnected. They're isolated and invisible. That's what we want to help fix.
We're passionate and focused on making connections.

Connecting inmates and returning citizens to God, each other, the local community, and the local church.
Connecting service providers, churches, and volunteers who are working inside and outside of prison to each other.
We believe the time is right for a major shift in how we do things. It's time to break down walls of isolation and invisibility. It's time to build a growing network and forge new connections. We believe that the creation of a nationwide Inside Out Network is valuable, feasible, and sustainable. This network will be built on a powerful online platform (a) to connect returning citizens with the help they need and (b) to connect those working inside and outside prison with each other.
We have a message:
To inmates and returning citizens we want to say… "Here are helpful resources, supportive people, and a seamless path to personal transformation, the help you need, and the church you dream about – all in the palm of your hand."
To their families we want to say… "Here are helpful resources, supportive people, and a seamless path to help your loved one."
To prison volunteers we want to say… "Here are helpful resources and a way to extend your spiritual and practical impact beyond the prison gate."
To service providers we want to say… "Here's a game-changing way to connect with the people you want to serve."
To departments of corrections we want to say… "Here's a way to make your job much easier and more effective."
To ordinary churches we want to say… "Here's a cheap, safe, simple, and effective reentry ministry."
We can do this. We need to do this. And the time is now.
Our Staff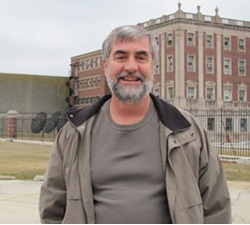 HI Fred Nelson – Executive Director.
For many years, Fred was the lead pastor of Redeemer Church, a multisite congregation in Park Ridge and Chicago, Illinois, before relocating to Tucson, Arizona at the end of 2019 in order to focus full-time on prison and reentry ministry with the Inside Out Network. A former missionary in Bangladesh and an expert in Christian-Muslim relations, Fred has had a long-standing passion to share the Gospel wherever God leads him.
He has been involved in prison ministry since 2006, working at Stateville Prison, in Joliet, Illinois as a volunteer chaplain. Fred has served at Stateville as a volunteer with Prison Fellowship, taught the Alpha Course, and led teams of Inside Out Network volunteers to distribute Bibles and pray with inmates. Over the last few years, the team has distributed more than 10,000 Bibles and 10,000 copies of RED Chicago, a highly-regarded reentry guide for Chicago, created by his church.
In 2011, he was recognized as Stateville's volunteer of the year. In 2012, after several years of collaborating with inmates and ex-inmates, Fred published the Spiritual Survival Guide for Prison and Beyond (now in its second edition) in the hope that it might bring hope, practical wisdom, and the light and love of Christ into some dark places. Because of Christ's call and claim on his life, Fred sees himself fundamentally as a change-agent – an evangelistic agent of Christ's life-changing hope and joy – to everyone he meets, but especially to those who are feeling hopeless. Fred has a passion for networking, coaching, and hiking in the desert.
Say hi or ask Fred a question right here.